Hi y'all! :D
DOLL HOUSE TIME! A lot of you girls have been emailing me with ideas for doll houses, and questions like "Where can I find ideas for a doll house" or "How much is it to make a doll house?"
Lets get started!
__________________________________________________________________________________
Doll house Plans from Addie! (On Etsy)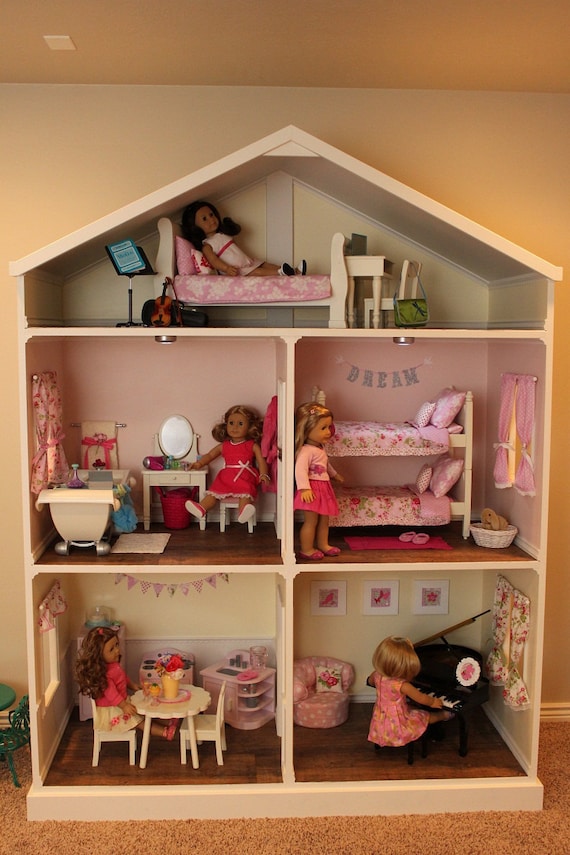 I love how she set this up! My favorite room there is probably the piano room. LOOK how cute the bedroom is! :O There are even hardwood floors!
Description:
This listing is for a pdf file American Girl Doll or 18 inch doll House plans. My husband and I spent hours designing these plans. Our girls have spent hours enjoying this house and they love that dad and mom made it especially for them. Now you can build your own with our detailed plans and expertise!

Finished dollhouse measures 6 feet 8 inches tall, 5 feet wide and 2 feet deep.

Tools needed:
Hand Saw or Table Saw
Miter Saw (Trim)
Jig saw (cutting out doors and windows)
Steel Square
Tape Measure
Finish Nailer & Compressor
Brad Nailer & Compressor
Utility Knife (to cut vinyl flooring)

Expect to spend 30 to 40 hours depending on your skill level. You will need to have the tools and some experience using those tools. The Dollhouse can be built from $250 to $500 depending on lumber prices in your area and optional trim selected. The doll house pictured was constructed in place using MDF and finish nails and was not intended to be moved out of the room. The doll house is very large and will not be easy to move. If you want to be able to move the doll house from one room to another or to another home, most wood veneers would be lighter and stronger than MDF. You may also want to use screws to attach pieces instead of nails. You will also need to check clearances with doorways, stairs etc. to make sure it could be moved after being built. Since we do not control the quantity of fasteners used in construction, we take no responsibility for the structural integrity of the doll house. Build and use at your own risk.

Also included is a resource guide that describes where you can buy all the furniture and accessories in the dollhouse.

Listing is for pdf files only - not actual dollhouse. We will email you the pdf file within 24 hours of receiving payment.
We will also provided email support for questions when building the dollhouse.
How does that sound? Here is the link!
__________________________________________________________________________________
Pss.....
About my doll house. We spent around $150 on the wood and paint alone. The house has 5 rooms, 3 smaller, 2 bigger. Also a living room, dining room, and kitchen. Want some pictures? Let me know by commenting!
________________________________________________________________________________
Do you have a big doll house? A small one? no room for it? In the next couple of months we will be doing a review of American Girl Room. This is a foldable room and super easy to have fun with.
Have a nice day! :D
I am super busy because my parents are leaving for Ireland soon and we are staying with other people, so I have to schedule posts for you! :D
Have a wonderful day!