Hello! :)
I havn't found my holloween costume, but I think I am going to be a movie star, you guess which one! ;)
My dolls have their costumes, but your dolls might not!
Here are some amazing ones I found on Etsy.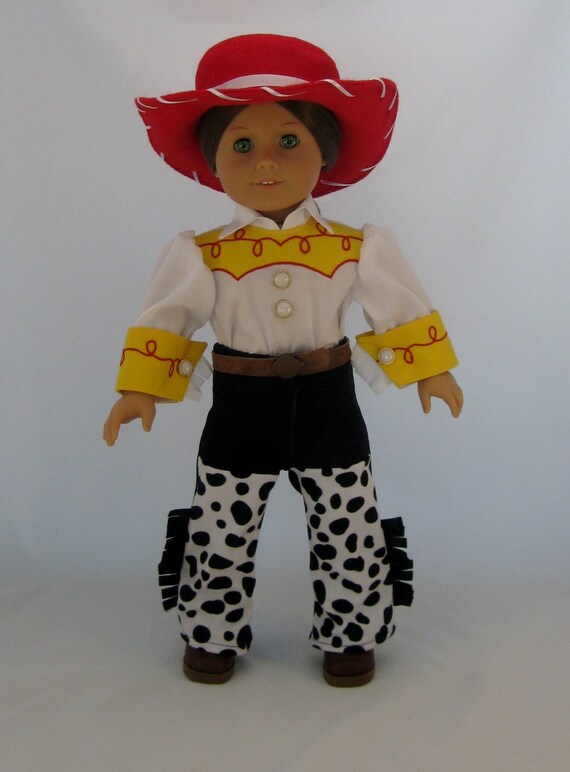 Aren't these realalistic? Wow, that looks just like
Jessie!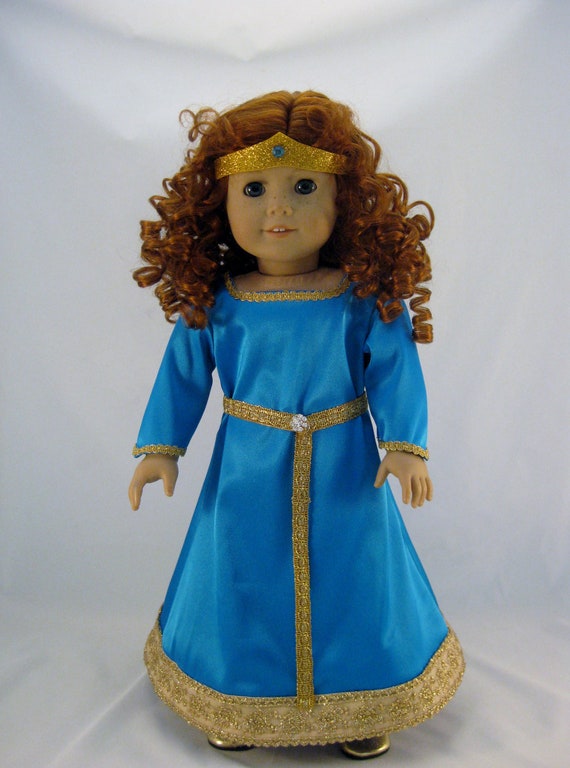 Here comes
Merida
! :)
My favorite from her shop: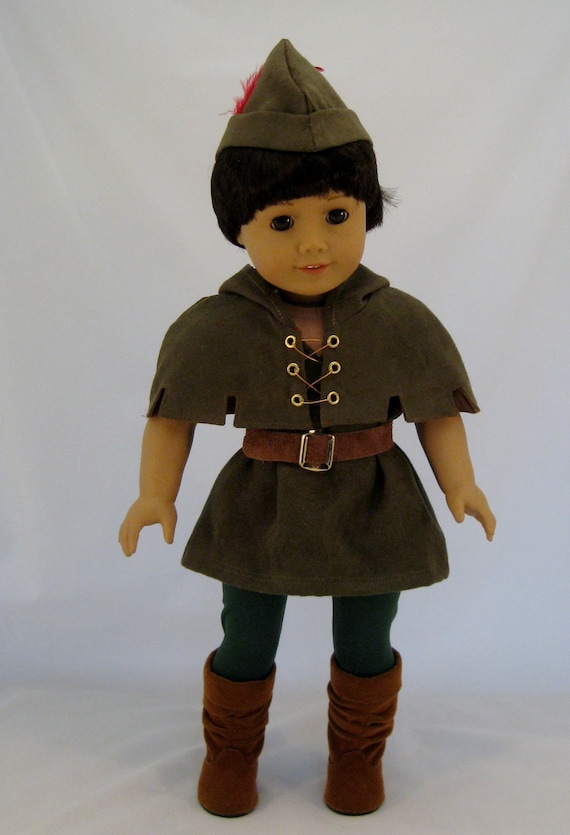 Description:
This Robin Hood costume is sized to fit American Girl dolls and is hand made. The costume is made of faux suede and the cape is lined with an unlined hood , the front is embellished with brass gromets laced with gold elastic cord so it can slip right over the dolls head easily. the hat has a red feather and the tunic is sleeveless wiith a back velcro closure and is sinched at the waist with a belt with a gold buckle. The boots are suede like and zip in the back , the hunter green tights are also included!
Link to her wonderful shop:
http://www.etsy.com/shop/enchanteddesigner?ref=seller_info_count
________________________________________________________________________________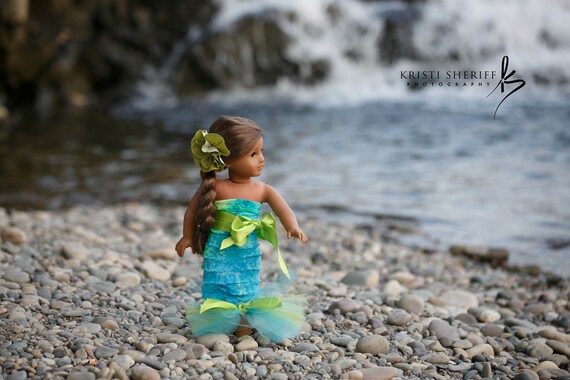 Wow, the picture is so pretty. This makes me want to get Kanani (the outfit and camera too!). I just love how colorful it is.
Description:
This amazing costume is made to order in doll size for your 18" doll. Included is a long tube style ruffle dress with a fin made from tulle and satin ribbon. A large flower hair clip and a long green satin sash. if you need a m2m doll size necklace be sure to visit Aiko Art to order one!

This costume has a 1 week turn around before shipping.
A big thanks to Akio Art for making these amazing necklaces to match and Kristi Sheriff Photography fo rthe beautiful models and pictures.
_____________________________________________________________________________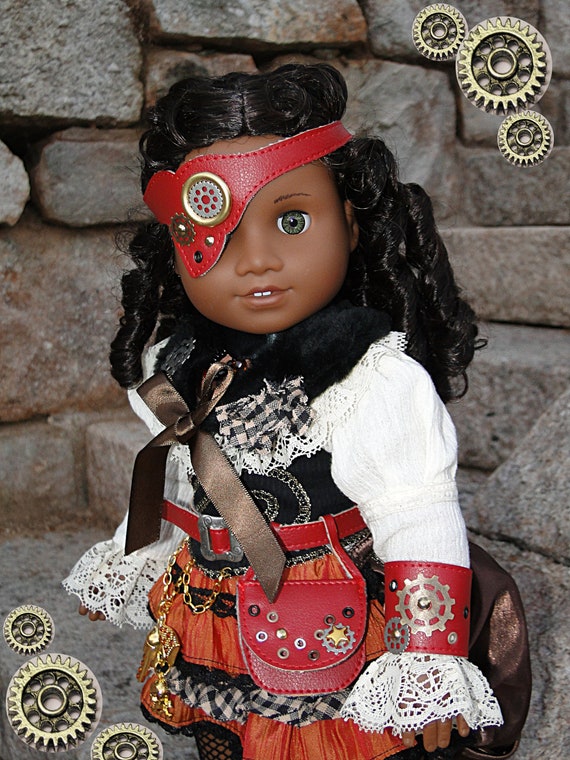 When I saw this outfit on "Steam Punk Addy" - I knew I was in doll costume heaven! :D
Description:
Steampunk styling incorporates the past and the future - an amazing amalgam of the Victorian era with elements of futuristic science fiction. Experience the best of both worlds in this uniquely styled doll's Steampunk Costume and blow off some steam on Halloween!

The set is limited edition - only ONE of a kind.

It is handmade by me with love and care using my own patterns to fit 18 inch Dolls such as American Girl Dolls, Battat, Gotz, Madame Alexander and other.
Measurements for this doll are as follows: Head - 12 1/2", Neck - 6", Chest - 11 1/4", Hips - 12", Neck to above knee - 9 1/2"

✿ Absolutely gorgeous vintage COLLAR is black super soft faux fur with brown satin ribbon ties. The back is lined in a black cotton. Decorated with checked fabric and 2 gears. This collar is perfect to add to the costume to glam it up!

✿The Steampunk NECKLACE is black satin ribbon with black and red beads and velcro closure on the back.

✿Uniquely designed black striped underbust CORSET features a front gold applique with gears, golden trim around and a retro gold rhinestone gun & skull head chain. Velcro closure on the back.

✿Gorgeous ivory cotton BLOUSE features long puffed sleeves and trimmed with a vintage vory lace. Closes with velcro on the back for easy opening.

✿The 3 layer ruffle SKIRT has an elasticized waist and black lace trim on the hem. The back of the skirt has a draped brown satin train decorated with black lace and gold trim that gives great volume. The train is attached to the skirt with 2 snaps.
✿Burgungy faux leather steampunk BELT features the same material PURSE that opens to hold all your essentials.

✿Steampunk CUFF with 2 gears and eyelets is made of beautifully soft burgundy faux leather.
It fastens quickly and easily with velcro.

✿The black net stretch TIGHTS are with the elastic waistband.

✿Burgundy faux leather steam punk SANDALS are handmade by me and decorated with brown satin bows, gears and eyelets. This is a truly unique designer piece.

✿No steampunk outfit is complete without an EYEPATCH! This is the highest-quality eyepatch made from gorgeous burgundy faux leather, gears and matching yeylets. It can be worn on the left or on the right eye.


Join the retro-future world of Steampunk, with this Costume Inspired by a melding of Victorian-era Britain and the fantastical designs of authors like H.G. Wells and Jules Verne!

This costume is designed for COLLECTOR AND ADULT PLAY ONLY. Absolutly not for children. Satisfaction is guaranteed!!!


My doll is not included.

This ensemble will be shipped in the gift box containing:
*11 articles of clothing: collar, necklace, corset, blouse, skirt, belt, purse, cuff, tights, sandals and eyepatch.
* a certificate of authenticity signed by the artist
(if you have read this long) Link:
http://www.etsy.com/listing/106612786/11-pcs-steampunk-victorian-style-costume
______________________________________________________________________________________________
Have a wonderful day! :) I just came back from swimming and tennis! :D
P.S. Who likes the new fall design?