Hi! :)
So, Caroline came out! Yay! :) When we woke up this morning, my siblings and I rushed to the computer, and we loved almost everything, but then realized we need to make some money! :) AKA- AG your prices are crazy! :D
All the new stuff, why I like, it, and will I get it? ;)
Purple Party Outfit for Dolls. PRICE: $36! Ok, this comes with the dress, tights, shoes, and a headband. I think the dress is cute, but to simple for me, the shoes look nice, but everthign looks cheap quality. But that doesn't stop my sister from getting it whrn we go to Denver in one month! :D
Adorable! :) The little nutcracker is adorable. We found a little nutcracker at Hobby Lobby for $3 that was the same size and all. BUT I LOVE the jacket!! :) The price is a little crazy for the jacket and all of the extra things, So I don't think I will be getting it any time soon!
Yay! :) I love this dress, so pretty! My doll will look like a little angel in this outfit! I love love love this outfit and hope to get it at the American Girl Store. It comes with the dress, shoes, and headband..... One word.... LOVE (oh and overpriced! :) - giggle)
Cute, but not amazing! When somebody gets this, I totally want to see the review! :D
Very cute! Looks like the dolls can only do this at Christmas time! I think it is sweet, but the apron is WAY to cheap looking! "The Doll Wardrobe" just got this outfit, I can't wait to see the review!
I really dislike this otufit. The jeans are OK. The hat looks to HIP, the shirt does not match, and the shoes look weird. :( Sorry girls!
I think this outfit is cute! I can see why AG did this outfit, I don't know a girl that doesn't like white fluff! :D LOL. My siblings and I were talking about if we were going to get this one, and the answer was no.... It is to white, I feel like I am going to get it dirty super fast! PLUS where I live, it is winter for like a month! XD
LOVE htis coat! Looks so CHIC! The boots and the coat are on my wish list! In Denver, I wish to see this up close! :) I thinkt he price is to high for it. PLUS I don't live in a place where Winter lasts long.
I really loved this 2-1 skating outfit at first, but then I saw the price, and thought- "are you crazy? $48!! That is WAY to much for anythign doll related". The outfit is now off my wishlsit. ;)
So cute! I think this is totally worh the price, and afforable for a doll building. The colors are nice and relazing. But the doll takes up the entire room!! :/
Really cute! :) I just don't use WinterWear though, But I will being looking into this!
(sorry for blurry Pic)
I LOVE this bed! But I prefer to buy used beds for 1/3 of the price. :)
The table and chairs looks like felicitys, I am NOT impressed! :( The food looks yummy though!
LOVE this!! OMG! The detail looks so nice. (for $300 is better be!) It is on my wishlist but I know I will never get this.... :)
Here is Caroline! :D I love her! (Honestly I thought she would be much better, but she turned out jsut fine either way). I still think like Rebecca and Ruthie are ahead of her, but she is next in line! The dress is WAY to pink. I have like nothing PINK in my closet, neither do my dolls! Girly girls- YOU are in luck! :D The hat is so pretty, something I might just buy! :) The purse and the top are really cheap to me, soemthing they just made because they didn't know what to make!!
Very pretty! I will be getting this entire outfit in the future (not the food).
Things I didn't care for in Caroline collection:
I sorta like the nightgown and the purple one, :D The purple dress had a headbanc that looks like a blond braid. So it wouldn't work on Rebecca! :O LOL
Favorite one of all time!!! :)
There are a couple more things too! Check them out here: americangirl.com
_________________________________________________________________________________
UPDATE TIME:
Please take my survey! :) (it is on the left side)
I made the awards to the Etsy shops, thta should be posted in the upcoming weeks.
At my house, we all have certain rooms to clean. I am in charge of a bathroom, closets, bedroom, and Luandrey room..... OMG! Our room is so hard to clean, all fo the dolls are constantly making a mess! :D LOL
________________________________________________________________________________
A slouch hat that I would totally love!!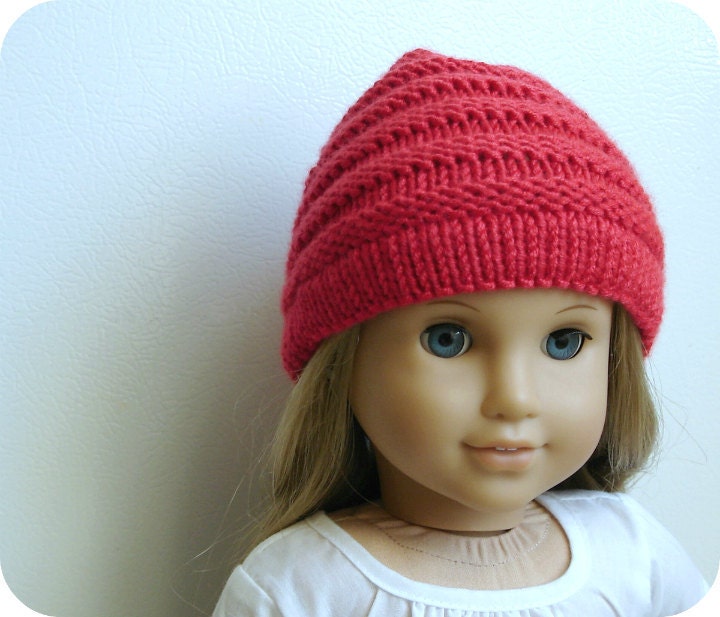 Doesn't that hat look so comfy! :) I heart it!
Listing:
This is my newest design for the 18" American Girl doll. Sophie - a hand knit slouchy hat with a hemmed edge. Done in an ultra soft microfiber yarn in ruby red.

Machine wash gentle cycle. Re-shape and lay flat to air dry.

For my fellow hand knitters, this hat is now also available as a PDF knitting pattern in my shop.
Now winter (ok, fall!) is coming up and I know you all need extra hats and gloves, and scarves, etc! This is one of them! :)
Etsy LINK:
http://www.etsy.com/shop/Qute?ref=seller_info_count
Shout out to Steph for being patient! :)
___________________________________________________________________________________
Havea wonderful day! :)
I am just about to haev crepes in Nutella, know what that is??
AGMarket