Hello!
So we stayed with our friends for 3 days and that meant NO COMPUTER! So I am back to posting, and along with that, we have some updates to reveal!
First I gotta show you these cute pair of PJs made to match your dolls style!
__________________________________________________________________________________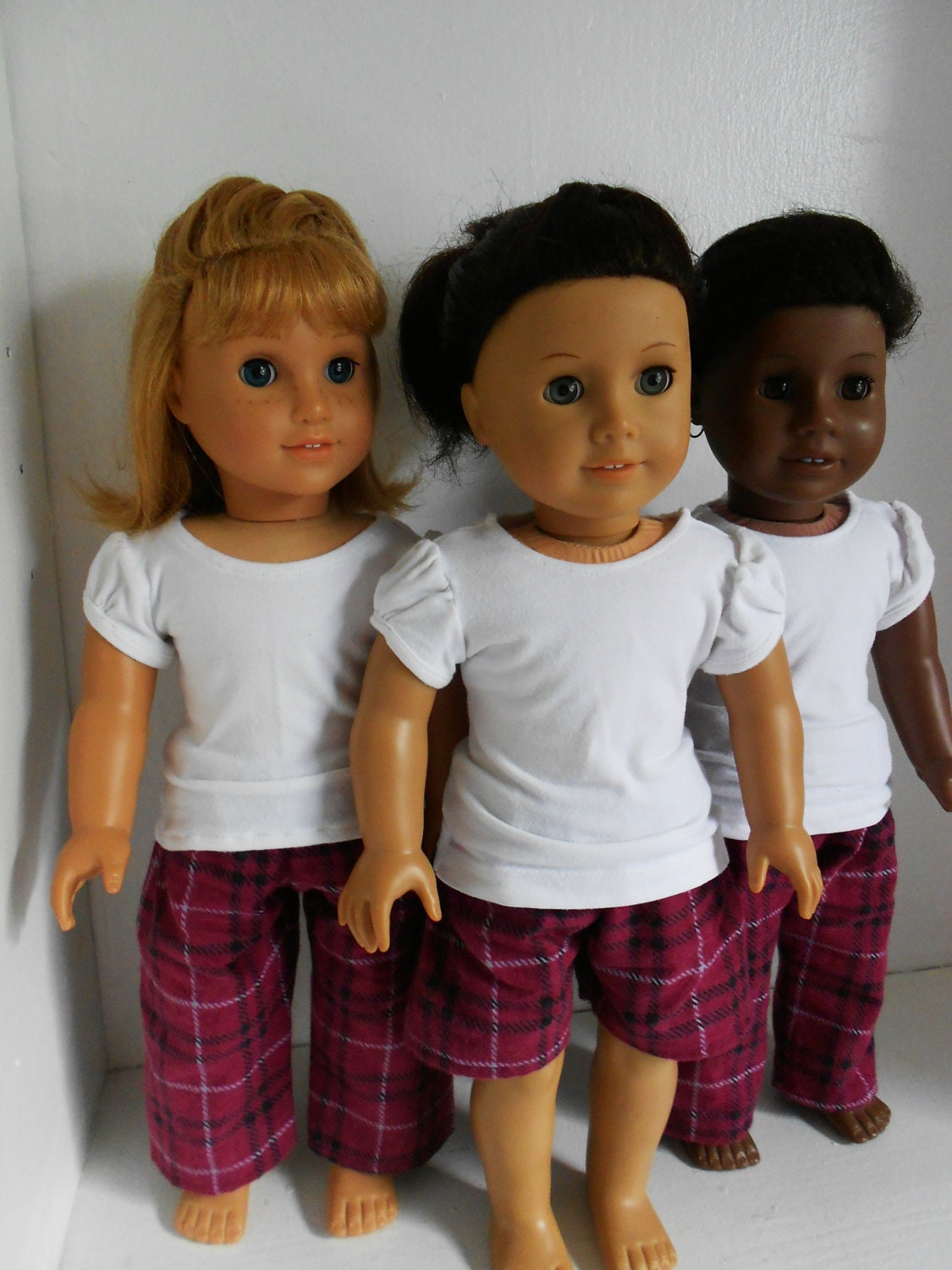 Short pants or long pants? Good question! I prefer long pants (BUT BOY did I learn my lesson when I arrived with sweats to sleep in atmy friends house, their house is
HOT
).......
Here is the description:
As we finish falling into autumn, and begin to feel the nip of winter at night, it becomes necessary to find warmer bed clothes for your 18 inch beauty.
And we know that this plaid pants, white tee combo will do the trick every time! Not a nightgown, not a character pj set; this cute and comfy set is composed of elastic waist, loose-fitting plaid flannel pants, and a soft and comfy short-sleeved tee. Together they provide the perfect casual coziness that any doll could desire. The short sleeves keep her from over-heating, since it isn't too cold yet. And if she is like us, she can hardly stand long sleeve sleep shirts! The shirt features Velcro closures in the back.


When you purchase, be sure to select whether you want the SHORTS and tee combo, or the LONG PANTS and tee combo.


Pleas Note the Following:
*The PANTS were sewn in an environment where the only animals are siblings, and the only smoke comes from Paige thinking.
The TOP was sewn in a house that has both cats and a dog. It was stored in airtight bags when not being worked on and inspected carefully for pet hair before listing. Smells like it was just washed; no trace of pets.
*The shirt was sewn with a Liberty Jane pattern.
*Dolls not included.
*Fabric is pre-washed to prevent shrinking, and edges are finished to prevent unraveling.

Please feel free to contact us if you have any questions, concerns, and/or requests, either through Etsy Convo, or through our business e-mail: DolzDreamzzz [!at] yahoo.com .
Check out the link here!
__________________________________________________________________________________________________
- UPDATES -
Well, lets get started! I noticed that I have been giving you updates on places but not on ME. That is why I like update posts because I can share with you MY LIFE.
First things first. I am going to be redoing my signature. YOU COULD WIN! Make me a signature and you could have your blog banner on my blog for a month!
- It has to be classy and unqiue! Sage and Fushia are my favorite colors, you may include brown and black and white. NO NEON COLORS!
Have fun!
..... If you are going to enter, then comment here......
__________________________________________________________________________________
Being homeschooled is nice. But I am super social and miss my friends. Math right now is GOOD. I am a grade ahead and doing a lesson a day. History is my favorite! Had a test on Elizabeth the first and 100% correct. I love Eoupean History! Don't ask about Piano! :( Man, I need to get my minuet done by Wednesday. Thursday is french. I have to have a song done! So, I need to go back to school! XD
I want to see if all of you are really reading my posts, so - if you have read this, then comment below!
I cann't believe how far we have gotten! Over 15,000 page views! Like 120 pageviews a day! Giveaways are blooming like flowers (thanks Kellee for being patient!). 67 followers! :O The next giveaway will happen when we reach 85. WE CAN DO IT! :D
* First three people who email me with a guest post (about doll fashion) will have their post posted. So email me today!
___________________________________________________________________________________
XOXO,