Bonjour! :D
Ok! :) Lots of fun news and things....
1. Rose (Loving Your American Girl Doll), Priya (American Girl Playground) and Jessica (Rosayns blog) and I are doing a craft trade. I will send a box out to them with crafty things and things that can be used for the dolls. Then they will send something back! :) Very exciting!
2. We went to the Dollar Tree last night and went shopping! ;) I bought SO many things, and yet it came under $10.00, it is for the craft boxes......
3. ALOT of people have taken interest for my items for sale (Havn't seen them yet?) Go on Youtube and type in Angelique S. (I think!) Only some of them are there........ XD

_____________________________________________________________________________
Ok- now onto another Fashion Post, but I just HAD to show you this (you have never seen this shop before, they are new!). Since they are new to Etsy, I wanted to give them a shout-out and a welcome!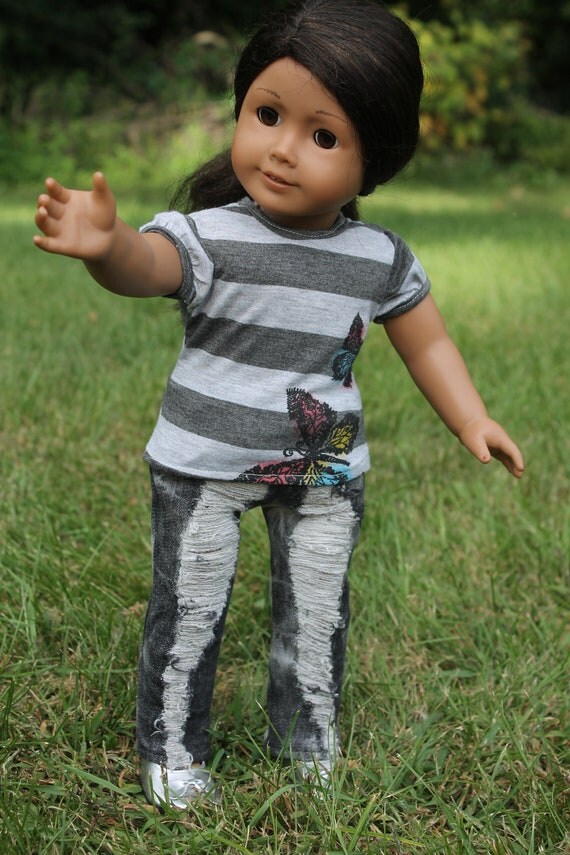 Those jeans are super interesting! :) The more I look at them the more I like them (and feel punk!).... LOL I love this outfit!
Details:
This listing is for a two piece outfit. The outfit includes a striped t-shirt and a pair of gently destroyed skinny jeans. The jeans features working pockets on both the front and the back. The t-shirt has velcro in the back for easy use and the velcro is sewn on.
For $20.00 I think this is a pretty good outfit! Here is the link:
http://www.etsy.com/listing/107366082/american-girl-doll-jeans-and-t-shirt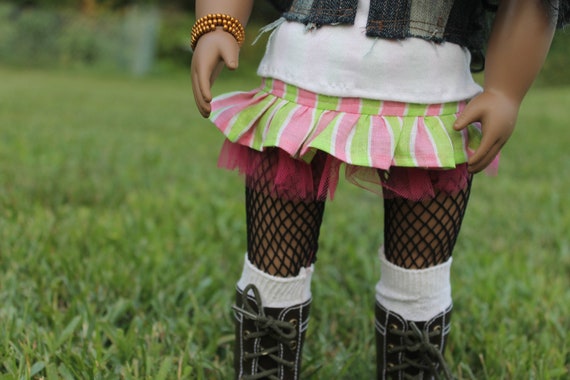 I think it is so cute how she layered a lot of her looks! (My sister was jsut saying how cute the boots were!).... :D
Details:
How adorable is this skirt? It has just enough sweetness and a little bit of punk in it to make your doll look fashionable!
It is made of cotton and it's accented with tulle under it.
This skirt was made by using a Liberty Jane pattern.
For $8.00 the skirt is a steal! Here is the link:
http://www.etsy.com/listing/106568729/american-girl-doll-pink-and-green-skirt?ref=v1_other_2
And last but not least! :)
The jacket! :) I looks super cute with the skirt... This vest/jacket is $10.00
Your doll will look awesome in this jacket. It is made from jeans fabric and has studs as accents. The metal studs were sewn by hand and I would not recommend it to children under 4 years old.

A lot of detail went into making this jacket. All of the seams are finished with a zig zag stich. It features pockets (non working) and double stitching to look like a real jacket.
_______________________________________________________________________________
Amazing right? Well I think everything looks perfect in her Etsy shop! To some of you, the prices might seem a little much, you can watch out for their sales!! :)
I just found out they have a Facebook account! : ps://www.facebook.com/DollHouseFashion
Shop Sign:

Thank you Giselle for letting us look at your shop! :) It made a wonderful post!