Hi! :)
I just realized that I had never really shown you furniture and doll houses from Etsy. So the post today is about doll houses and what wonderful furniture you can put inside of them.
Have your dolls asked you yet for a dollhouse? I am sure they have! ;)
______________________________________________________________________________
Start off with going to "itzpurple" to buy a doll house!
This one has two rooms, and a stable!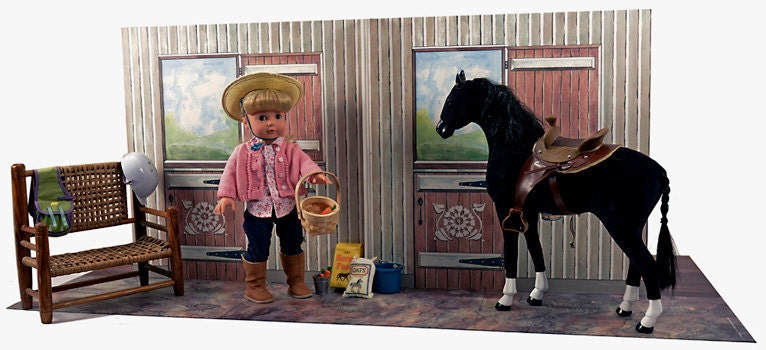 A unique feature about this doll house is that is fully accessible for full 360 degree play, every side has quality graphics. Because the doll house provides 360 degree play area multiple children can play simultaneously. The four room model can handle 2 to 6 children comfortably while the smallest unit can handle 2 children easily. Traditional doll houses only allow for one child at time, here play dates; friends and siblings can all enjoy and play together. A great back drop for young girls imaginations to rein freely.
The doll house is fully collapsible and easy to store under a bed or behind a cabinet.
Let me read that to you again "
The doll house is fully collapsible and easy to store under a bed or behind a cabinet."
Isn't that wonderful? a + for sure!
If you would rather have a little business going on, then you would love the "Ice Cream shop!"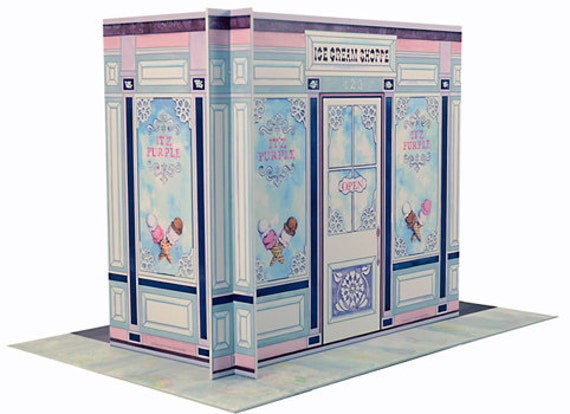 This doll house will be a sweet treat for anyone. Who doesn't enjoy taking a trip to the Ice Cream Shoppe for a refreshing treat or simply to hang out with friends? The one room interior features "Ribbon and Red Posies" wall design that can be a charming dining room, delightful bedroom, perky parlor room, or anything else your child can imagine for her doll. Even better yet, she can change it as often as she wants; the choice is hers!
These would make wonderful doll houses that wouldn't take up a lot of room!
Check out their shop link here
:
http://www.etsy.com/shop/itzPurple?ref=seller_info_count
Feedback:
This dollhouse is an amazing product that my daughters love! The rooms are all pretty and it is very sturdy. All 3 of my kids can comfortably play with it at the same time. The seller responded quickly to my questions and shipped it just as fast.
What is your dream doll house?
______________________________________________________________________________
Now onto the beds for the bedroom!
(and !oh! am I excited to show you these super adorable doll beds!)

makes a lot of adorable (and so Anthropologie) doll beds! - and bedding!
This doll bed is so vibrant and fresh!
Details:
Farmhouse style wooden doll bed, will fit 18" dolls (extra wide for 2 dolls or twins), American Girl dolls or use for adorable newborn photo prop or pet bed!
Beautifully painted in retro turquoise/aqua, this bed is ready for play or a newborn photo session (please supervise children of all ages).
Quality craftsmanship made out of solid pine and or/douglas fir, this bed comes fully assembled and finished. It is handmade by my husband--he constructs it with glue and screws so it's built to last. He even added extra support since our toddler granddaughter (we like to test our products) likes to climb into it too!
Not your colors?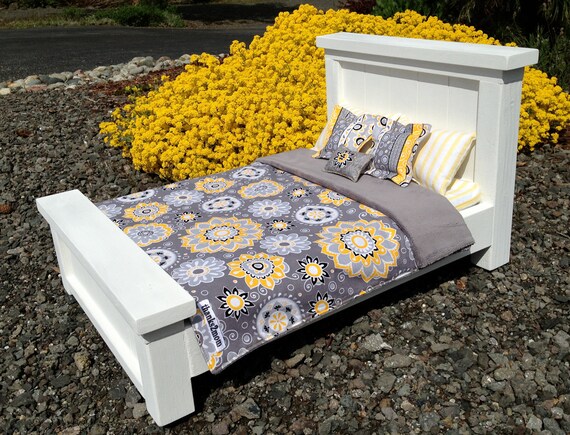 This one is my favorite! My friend has a bedspread that sorta of looks like this..... I love the color combo! (plus the backround really adds to it!).
This set includes the bedding set! (so not the bed).
Custom made colorful doll bedding set in gray, yellow, white, and black. A spring floral print reversible bedspread with a plush cuddle gray back. The fitted sheet is sunny yellow and white stripes and has a velcro opening (fits our farmhouse style bed and mattress, sold separately). Your 18 inch doll or American Girl Doll will just love this set! (Please allow approximately 5 days for me to complete your order.)
Have a special color in mind? ("thankstomom" has different colors available)
Here is an unfinished doll bed.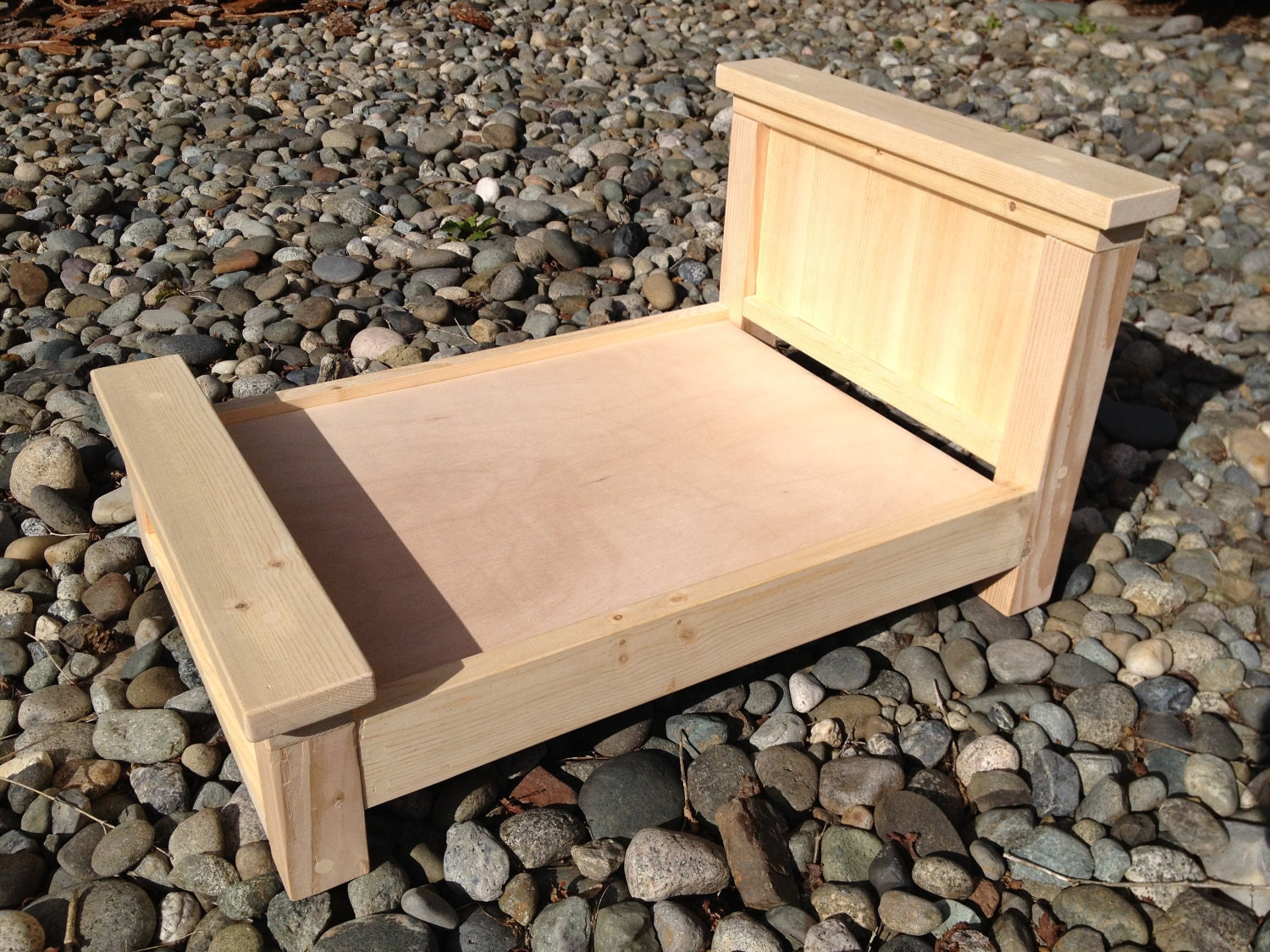 This one retails for $60.00.
Here is the link!!
Not a do-it-yourselfer? No problem--we can finish this bed for you, just message us with your ideas and we'd love to make them happen! We'll be happy to provide you with a quote.

is adding new items this week- so be on the lookout! (they also LOVE custom orders!)
Here is the link to their shop!
Feedback: TONS AND TONS of +++++!
Thank you so much Irene for allowing me to post about your work! :D
_________________________________________________________________________________

is another shop I just love! I saw her items on Karens blog. :D
She has some wonderful items! She makes beds, clothing, and sofas, etc. I wanted to go ahead and show you the sofas she makes.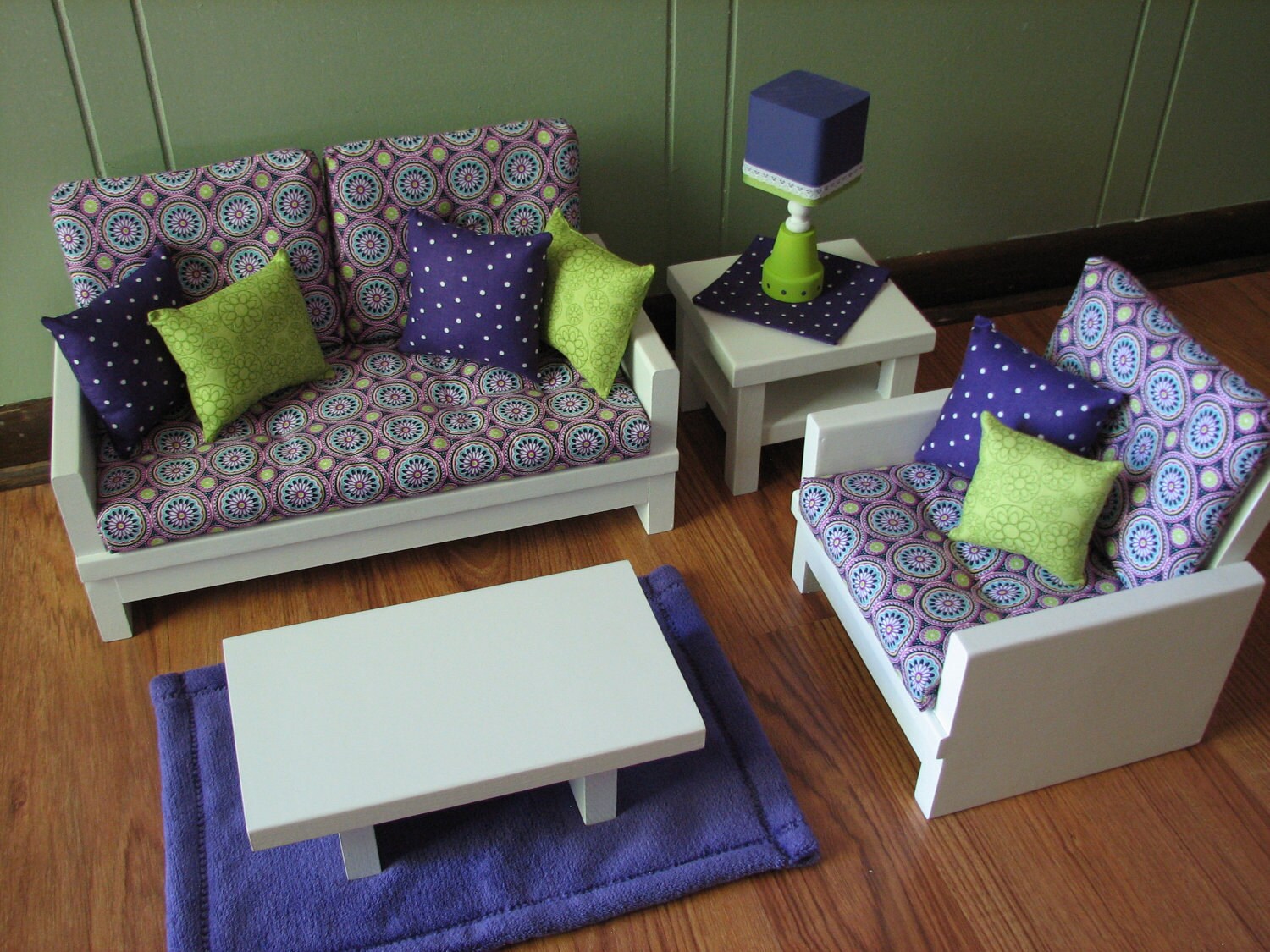 This purple and green sofa is super artsy! :) I saw someone on Youtube with a sofa set (from this store) and they loved (and still) it!
Wouldn't this be perfect for your kitchen table?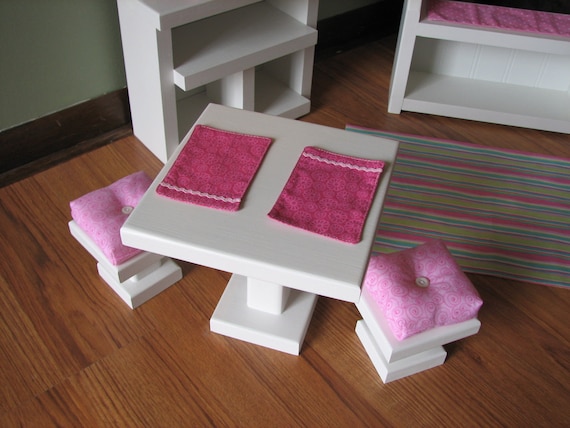 Made out of pine wood and painted white, this listing features a cafe side table with two cushioned bar stools and a pair of pink placemats. Cushioned in a light pink swirl fabric, this adorable seating set provides the perfect place to enjoy those baked goodies from the Sweet Shop Cafe! This listing for Cafe Side Table / Stools and it's accessories only.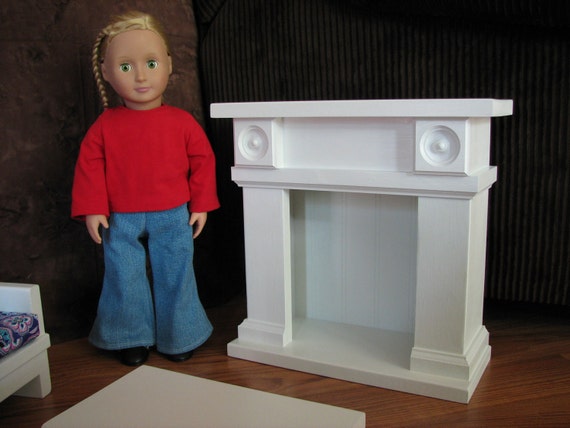 How about a fireplace? SO charming!
Things you should know:
She has sold 213 items! :O
She has 100% feedback!
Look what I found in her feedback!!
Thanks to Etsy for making me inspired to play even MORE with my dolls! :D
:D I hope you liked this post- it took awile to do!
Have wonderful day!
AGMarket